Who we are
GTR stands for Govia Thameslink Railway, and includes Southern, Thameslink, Great Northern and Gatwick Express. Govia is a partnership between the Go-Ahead Group and Keolis.
We are a modern operator with an established history
1987
The Go-Ahead Group is established in the North East where it was formed following the deregulation of the bus industry
1997
With rail privatisation, the Go-Ahead Group entered into partnership with French transportation company Keolis in 1996 and began running the Thameslink franchise as Govia in 1997. The joint venture sees Go-Ahead at 65% and Keolis at 35%
2001
Southern began operating trains as South Central, when Govia took over the remaining two years of the Connex South Central franchise
2003
Our parent company, Govia, was awarded the franchise from 2003 to 2009. In 2004 South Central became Southern
2008
Govia took over the running of Gatwick Express
2009
Govia was again awarded the South Central franchise, to run from September 2009 until July 2015
2014
Initially created to deliver change through the Thameslink Programme, Govia Thameslink Railway took over the services of both Thameslink and Great Northern in 2014. GTR has been running Southern, Gatwick Express, Thameslink and Great Northern since then
2022
Govia was awarded a new National Rail Contract which sees GTR continue to run Southern, Gatwick Express, Thameslink and Great Northern until at least 1 April 2025
People are our biggest asset
Everyone in our team has an important role in delivering a great service to our customers, and to show that we're with them along their journey. GTR is made up of a variety of roles where we can make a difference to people and communities on our network, from engineering roles and train drivers to station managers.
Top 100 Apprenticeship Employers 2023
We're proud that Go-Ahead Group, that Govia Thameslink Railway is a part of, was named one of the UK's top apprenticeship employers in 2023, at position 5.
We are committed to inclusion
Our Women's Network group has over 200 members and is currently working on many projects across the business including a Mentoring Network and a Talent Attraction.
We're working hard to increase the number of women in the rail industry and we've had some great success but there is still a long way to go. In 2018 30% of Southern's trainee train driver roles were taken up by women, up from 6% in 2015. In addition, a class of new trainee drivers on both Great Northern and Southern had a 50:50 gender split in.
Diversity makes us stronger
Our LGBTQ+ network supports LGBTQ+ colleagues. GTR was proud to have a float in Brighton Pride 2019 and a specially rebranded train to celebrate Pride.
Our Design & Content Apprentice Maggie Luckhurst designed the livery saying "This was a really special project to work on for me. Whether you're a member of the LGBQT+ community or not, I hope that the train brings joy to everyone who sees it and that it also raises awareness of LGBTQ+ issues."
GTR staff recognised for their contributions to diversity in the rail industry
In the spotlight
Angie Doll
Managing Director – Southern and Gatwick Express
Winner of the Everywoman Transport and Logistics Industry Champion Award 2019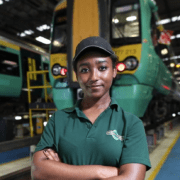 Katrina Rose Allen
Engineering Apprentice
Listed as one of the Women in Engineering Society's top 50 Women in Engineering 2019 in the Apprentice category in 201
There's more to discover
Keep on going